Dear Dispensary Owners,
Can you believe we did it? We are finally here with legal medical cannabis sales happening in the state of Oklahoma in 2018. It's your day as a business owner to shine, but there are a few things we need to remember. We all need to remember the golden rule, safety first. After all, we are in the medical cannabis industry so shouldn't we have some safety and standards practices?
Here's a list to help you out…
#1. When handling raw product, always wear gloves and remember to change them after touching anything but the product.
Cross contamination is a huge concern, especially with a potential immunocompromised patient. Make sure to train your employees on proper sanitation procedures and product handling. This includes in a commercial grow, extraction, and kitchen. Gloves should be worn at all times and changed frequently.
#2. Take time to listen to the patient and learn about what their needs are so you can educate them about various medications and their effects.
This is a huge one for dispensary owners. Make sure that your dispensary agents are properly trained and following your SOP's. You don't want to be the owner whose shop sells a high dose oral tincture to a patient who is actively taking blood thinners.
#3. Use every customer interaction as an opportunity to educate your patient on the expanded benefits of Cannabinoid Therapy, but you must be careful not to play doctor.
Remember we are a medical cannabis state and not adult use, this can be a tough line to walk. Make sure your SOP includes reoccurring training for your sales staff on proper terminology to use when interacting with the patient. Use personal experiences when interacting with the patient while trying to recommend a product for a certain condition.
#4. Terminology…..
Again we are a medical cannabis State and you will have patients from all walks of life. You could have pediatric clients all the way up to someone's grandma or grandpa in your shop. Please do not use terms like "This is the Fire" or "We've got that gas". This is medical not recreational adult use and should be treated as such.
#5. Product Safety and Product Education
Need we say more? Lab testing is key to consumer safety and imperative in avoiding product recalls. Within the first week of active sales in Oklahoma we have had some questionable product that was recalled by a dispensary.
Make sure you know what's in your product before you sell it and have the lab result on the label or available to the patient. This will make sure your dispensary agents don't have an interaction like this:
Patient: What is the strength of that brownie?

Dispensary Agent: About 50.

Patient: About 50 what?

Dispensary Agent: Ummm, about 50mg of THC?
#6. Product sales…
Remember that golden rule about 'Safety First'? When allowing the customers to view and sample the product. Please don't shove the jar full of medication in your customers face and then weigh the product from the same jar. You've just exposed your customers to health issues. Patients with strep throat or the flu breathing into that jar. Patients with beards could get hair into that jar. It literally opens Pandora's Box when you do this.
If you insist on weighing product in front of your customers please have a sterile area to perform this task and clean up after every sale. We trust you that it will weigh out and be on point, because if it's not the world will shortly know about it because of Social Media outreach these days.
In closing just remember this… Everyone is watching us closely. The No on 788 crowd, the Yes on 788 crowd and just about every other state in the Nation still on their quests for medical or recreational cannabis in their respective states. So, if it's busy and you wipe your sweaty forehead, change your gloves. If you shake someone's hand, change your gloves. If you take a break and smoke, remember to wash your hands and then put on new gloves before handling product. We aren't sitting in your living room buying product from your neighbor, so step up and do right by your clients. You can do this, remember it's your time to shine and help take care of all those patients out there. Be safe, have a heart and your customers will love you for it.
~ Sparky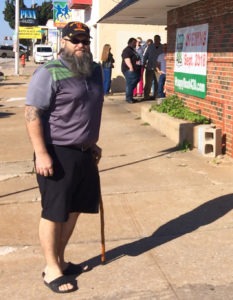 Kris "Sparky" Molskness