No matter where you look across Oklahoma, you will see signs of our Medical Cannabis Program. We currently have greater than two hundred thousand medical patients across the state of Oklahoma and we continue to add more to that number daily. A recurring discussion I have with colleagues, the media, and patients is "What are the results?" I wanted to give a perspective on my current patient population, trends, and outcomes to date.
At my current practice, Evolved Health and Wellness, we have a medical cannabis patient population of approximately 18,000 patients representing seventy-one of the states seventy-seven total counties.
Here are our top three statistics of interest: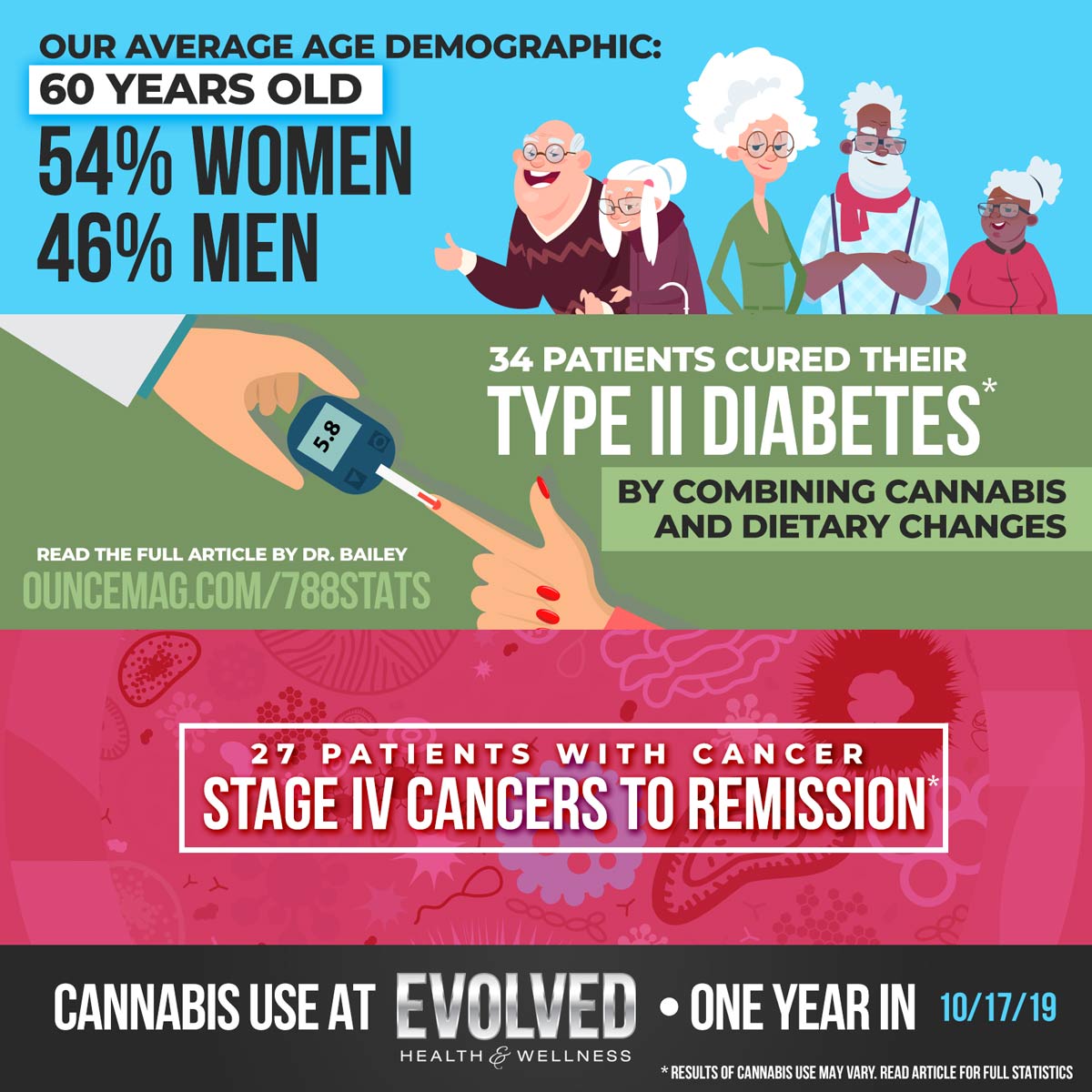 Our average age demographic is 60 years old, and our patient population is 54% women and 46% men. Our leading diagnoses are Migraines, Chronic Pain, Anxiety, Depression, Cancers of various types, Insomnia, Hypertension, and Epilepsy or Seizure Disorders. While that may be prototypical across most medical programs, there have been a number of surprising outcomes as well.
We have had 34 patients cure their Type II Diabetes Mellitus by combining cannabis and dietary changes. Also, our average weight loss, at follow up in six to nine months is 38lbs, with several patients losing over 100lbs. With cannabis being well known for stimulating appetite, this last result is was probably the most unexpected. What we know is that among the terpenes, Humulene modulates or affects appetite in varying degrees. We also know that cannabis generally improves mood and quality of life through improved sleep and decreased pain. I strongly feel that this combination just shows how powerful the human body can be when given proper fuel and supplementation.
In regards to Cancer, I always tell my patients the same two statements: "I will never tell you that cannabis cures cancer, but I will never tell you that cannabis does not cure cancer." The reason? There is so much research to still be done and hope, while a great thing, can be devastating if given incorrectly or falsely. I typically tell patients to use Cannabis just like another tool in their toolshed of treatment options. At the time of this writing, I have 27 patients that have gone from a variety of Stage IV Cancers to remission. Medically this is almost completely unheard of.
PTSD & Veteran Care
"The Post Traumatic Stress Disorder clinics and providers at the Tulsa VA Clinic have begun referring their patients for medical cannabis recommendations."
As many are aware, I also currently serve in the Oklahoma Army National Guard, and routinely care for veterans through my clinic Evolved Health and Wellness. This subset provides another view of treatment outcomes and possibilities due to the pure number of pharmaceuticals that the VA system typically writes for in an attempt to treat a very complex group of patients and diagnoses. Our medical cannabis program has done so well, that the Post Traumatic Stress Disorder clinics and providers at the Tulsa VA Clinic have begun referring their patients for medical cannabis recommendations. Our outcomes so far? A 75% reduction in Benzodiazepine use and an 85% reduction in Opiate use. And possibly most importantly, an almost 65% reduction in clinical presentations or hospitalizations due to mental health conditions in patients treating with medical cannabis. With our national suicide rate among veterans at an all-time high, this statistic means lives are being saved, simply by allowing our veterans to have access to medical cannabis.
Follow-up Appointments
Many times we hear from patients in the industry, "Why should we do a follow-up appointment with our cannabis physician?" The results above were discovered by meeting with and talking with patients at these exact follow up appointments. It is one thing to tell our legislature, law enforcement, and the general public that medical cannabis works, it is a whole other thing to actually have numbers and data to show and re-enforce our statements. There is power in numbers and results, especially when they represent the lives of fellow Oklahomans and their families.
2020 Outlook
What is next? Every day we have new patients inquiring about medical cannabis. These are typically patients that are very cannabis naïve, with little to no prior experience or knowledge. With the positive impacts of our program though, they have friends or family members that have had success in treating their symptoms which provides a sense of curiosity and hope. By helping these patients discover the benefits and possible improvements in quality of life, we can continue to grow our medical program, decrease pharmaceutical use, and continue to combat a multitude of medical issues that have eluded modern medical treatment for decades, if not centuries.