We all want to be better and live better but we don't take the steps in doing so. Eating right can be hard because of the cost, but what if you could change everyday foods into something that could help you? You're now asking me "what, no sugar, no fat??"… No, I love all that! Come on now, HEMP, real hemp, should be added back into our diet with a few other herbs.
For now let's start with some clones, some recipes you may already know. Either my family has used them or I plucked them up and now I'm going to redo them. This way we'll start to see a change in energy and strength to get through each day. I feel that when the government removed hemp from our diet we lost a great part of our defense system. So let's get it back!!
Bacon-Cheese Crescents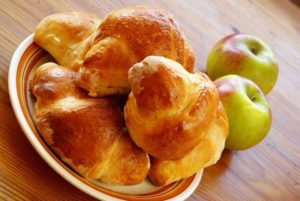 Preparation time: 20 mins
Total time: 35 mins
Makes: 16 servings
Ingredients:
Filling:
1 pkg. (8 oz.) cream cheese, softened
10 slices bacon, cooked, crumbled
1/3 cup grated parmesan cheese
¼ cup finely chopped onions
¼ cup finely chopped hemp hearts
1 tbsp. chopped fresh parsley (or raw cannabis leafs)
Rolls:
2 cans (8 oz. each) crescent dinner rolls
Heat oven to 350. Mix all "filling" ingredients. Separate the crescents rolls brush on some hemp butter. Using a teaspoon, place the mixture on each triangle, roll up and place on a baking sheet. Bake 12-15 minutes or until golden brown serve warm. You can brush on hemp butter before serving.
Creamy Shrimp Pasta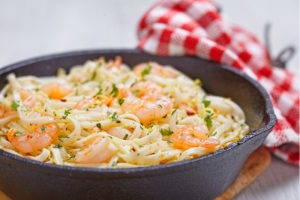 Preparation time: 20 min
Total time: 20 min
Makes: 6 servings
Ingredients:
2 cups penne pasta, uncooked
1 ½ lb. uncooked deveined peeled medium shrimp (or chicken)
½ cup chicken or vegetable broth
6 oz cream cheese
2 tsp. zest and tbsp. juice from 1 lemon
2 tbsp butter (or cannabis butter)
¼ cup parmesan cheese
½ mozzarella cheese
2 tbsp cayenne
1 tbsp chopped fresh parsley
Cook pasta for the time on package. Cook shrimp for 3 minutes. While the shrimp and pasta are cooking, in a small saucepan heat broth add cream cheese, butter, zest and juice. Cook till cream cheese is melted. Drain pasta add the cream mixture together and pasta mix well. Top with mozzarella cover and cook for 3-5 min. Garnish and serve.
Chocolate Chip Cookies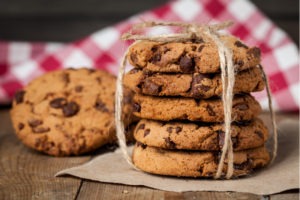 Makes 4 dozen cookies
1 pound (4 sticks) butter softened (or cannabis butter)
3 eggs
2 tbsp. molasses
2 tbsp. Vanilla extract (pure vanilla if you have it)
1/3 cup water
1 ½ cups granulated sugar
1 ½ cup packed brown sugar
1 teaspoon baking soda
1 teaspoon salt
5 cups all-purpose flour
1 ½ twelve-ounce packages semisweet chocolate chips
Preheat oven to 375. Cream the butter, eggs, molasses, vanilla, and water in a medium size bowl. In a large bowl, sift together the sugar, baking powder,baking soda,salt, and flower. Combine the wet mixture with the dry mixture. Add the chocolate chips. Shape the dough into 1 inch balls and place on a ungreased baking sheet. Bake for 8-10 minutes or until brown around the edges.